Bingo for Charities
UnCommon Courtesy's Bingo for Charities Program
This program is in the launch phase.
I am looking for charities to include in the program, and am beginning to add charity focus pages onto my websites immediately. The gifting option has been activated, and I am hoping to have a long list of charities that I can contribute a portion of your purchase to soon. THIS DONATION WILL NOT ADD TO THE PURCHASE PRICE. Please feel free to submit information about your favorite charity by
clicking here
There are a variety of ways that you can promote your favorite charity, as well as engage in the direct practice of gift giving, through the use of my bingo games.
Raise Money for Your Favorite Charity Through the Purchase of My Bingo Games.
There are so many different bingo games on my main website, www.uncommoncourtesy.com, that I have created several focus or theme sites. As a part of the Bingo for Charities Program, each of these sites will not only include bingo games and information that relate to the theme, but they will showcase charities that are associated with the theme.
Please feel free to submit information about your favorite charity by clicking here!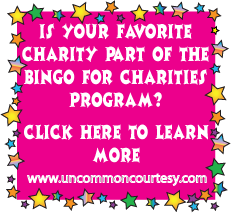 Once a charity has been accepted into the this program, I will create a webpage for it on one of the focus sites. The page will contain information about the charity, how to contribute directly to the charity, and much more. There will also be an opportunity for you to donate 1$ of your UnCommon Courtesy purchase to that charity or other charities that are a part of the program.* I am hoping that the charity will post a banner linking back to this program on their site. I've made dozens of different banners, so there is sure to be one that everyone will like.

What will be the charity focus of each site? Glad you asked!
BingoforLearning.com: individual school support, education, and literacy.
BingoforParties.com: medical diseases & conditions, hospitals, medical research, and mental health.
BingoforDiversity.com: disaster relief, homelessness, human rights, and hunger.
BingoforChristians.com: Christian charities.
Bingoforcatholics.com: Catholic charities.
BingoforPatriots.com: military and veterans issues.
BingoforChristmas.com: Seasonal programs related to winter holiday, children and children's issues, as well as child abuse.
BingoforHalloween.com: animals, environment
If you feel that I have missed a significant category, please let me know!
Contribute to the General Donation Fund
If you don't have a particular charity in mind to support, then you can ask that 1$ of your purchase be placed in a general donation fund.* I will be looking for great causes that are in need of a one time donation. That would include programs such as summer camps or education for underprivileged youth or an adopt-a-family for the holidays. You can allocate this $1 donation immediately by checking that you would like to make a charitable donation when you place your order.
Do you know of such a program that is looking for donations? Please have someone from the program contact me at: susan@uncommoncourtesy.com
Receive a Rebate on Your Bingo Game Order Just by Using the Game at a Charitable Event.
Are you affiliated with a charity that holds fundraising events? If the answer is "yes," then I have another opportunity to help your charity. If one of my games is used at a fundraiser, I will refund 5% from the sale of the game.* The game must be used at an event that raises money for a non-profit group, and I must receive a photograph of the game being used at the event which I can post on one of my websites. Hopefully, the charity will go ahead and apply to be a part of the program. Then, I can add the photograph to the charity's page, as well as giving people the opportunity to donate directly to it.
Give or Donate a Bingo Game to Someone You Know.
Are you looking for a charitable opportunity that will directly impact those around you? Okay!
How about Give a Game? What's that? Well, there are lots of great ways to donate my games to others. This is the way that a parent can give a game(s) to a teacher, a parishioner can send a game(s) to a Sunday School teacher, or something as simple as a grandparent wanting to send a game for his or her grandchild. What ever the reason the important thing is that you are giving to someone else. Everyone who is giving a game(s) as a gift will receive a 5% discount. Simply type "GIFT" into the coupon code box at the time you place your order.*
If you aren't sure exactly which game the recipient of your gift would like, you can send them a gift credit as well. Their credit will be for the full purchase price.
Do you have other ideas as to how I can use my games to support charitable causes and giving? Please email me at: susan@uncommoncourtesy.com.
Don't forget to sign up your favorite charity to benefit from UCC's Bingo for Charities Program!
Take a look at the charities that have pages on this website!
*At this time I am only able to offer one discount or donation opportunity for each order.
Bingo Games, Motivational Material and More at www.UnCommonCourtesy.com! More than 200 holiday, religious, educational, and diversity bingo games and concentration sets available . Bingo games for adults and children to play at home, school, church, corporate meetings, and just about anywhere you can imagine. Games made to order for every occasion. Motivational articles and personal growth exercises too! Join Susan Rempel, Ph.D.'s blog: Seek THE Positive.